cavachons for sale
1. Can you tell me more about visiting your farm, do you have general visiting hours?
While we don't have general visiting hours per se, we do welcome visitors to our farm. We understand you want to meet the puppies, parents, and breeders behind the scenes. We want to meet you, too! If our puppies are at least 7 weeks, you are more than welcome to stop by for a visit. Just send us an email or call to see if it's a good time.
2. I have placed a deposit with you for a Cavachon puppy. What happens next?
Your deposit "reserves" your puppy based on the preferences in your Purchase Contract including whether you choose from a current litter or the next.
Based on the preferences in your Purchase Contract, we will offer you a puppy from the then current litter available. You can always pass on the then current litter.
Wait for photos and watch your puppy grow. We send photos every weekend so you don't miss a minute of your new puppy.
Puppy files – We'll let you know how your pup is progressing including immunization and de-worming as per vet's schedule.
Socialization begins at birth including human handling. We also use neurological stimulation which you can read about under the section entitled "Choosing a Breeder."
At 7 Weeks come visit! This is the first opportunity you'll have for a "meet and greet" with your new pup. The wait ensures their strong immune systems are strong enough to fight off any bacteria.
Time to go home! At 8 weeks, puppies are ready to leave their mother and siblings and go home with you; their new family.
3. What will I get with my Cavachon puppy?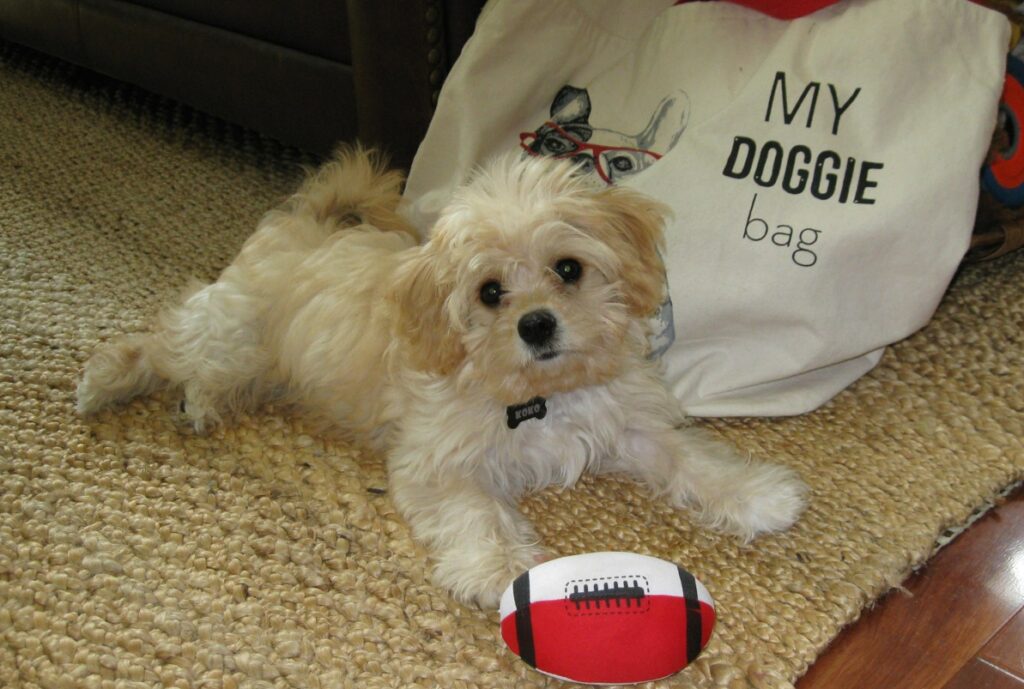 What you get with your purchase of a Cavachon puppy from The Monarchy:
Two-year health guarantee for all life threatening and/or debilitating genetic faults;
Early Medicals: 1st immunization, thorough deworming treatments;
Early Socialization – Daily, hands-on socialization with adults, elementary-age and high-school age children who carefully play with the puppies–from birth until the day they leave the farm; Bio-sensor/early neurological stimulation and exercises;
Puppy Folder with health record detailing treatments given with dates and product names, parent pedigree registrations if so desired, puppy care materials;
Starter bag of high quality puppy food (kibble);
A Collar to 'grow' with the puppy for at least a month, a puppy leash;
Scent cloth and/or toy for memory of mother dog and siblings, to put in your puppy's crate
Sample bag of training treats;
Puppy Teething Ring and or comparable 'chew.'
4. We have a dog, should I get a male or female puppy to go with it?
If you have a male, either will be fine. If you have a female (they can be a bit more territorial with their people) we would advise getting a male.
5. What do we need to buy for our new puppy?
Once you have sent in your deposit and are on our waiting list, we'll send you a detailed "Welcome to Puppyhood Manual" which contains a thorough supplies list. Your Manual also includes advice, tips, tricks, and techniques on how to care for your Cavachon.
6. What if I Live Out of State or Out of Country?
Families will need to arrange for pick up and many of our families or individuals do fly in to pick up your puppy. We may be able (with special circumstances) to meet you at our local airport so that you can return to your home state promptly. Please ask us about this.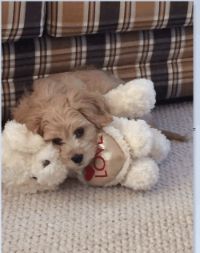 7. Do we need to hire an in-home dog trainer for our Cavachon puppy?
Hiring a dog trainer is beneficial for the entire family, but particularly useful if you have children under 10. The trainer can teach your family and your puppy basic commands and manners, careful play with the puppy, obedience training as a puppy, and later group obedience training.
Obedience training is the secret
to making a good puppy
into a truly great dog.
We recommend a minimum of three in-home training sessions soon after the puppy arrives. For more information and to find a trainer in your area, click here.
8. Do Cavachons like children?
Yes! Their gentle, playful natures make the perfect starter pet for your child or children. However, there are things to be mindful of, especially for children under 10. Detailed blog post coming soon!
9. Aside from socialization, what kind of "Puppy Prep" will my Puppy get before 8 weeks of age?
We are forward thinking breeders who know that while temperament is certainly hereditary, early experience can dramatically modify brain development, stress tolerance, stability and reactivity. So, in addition to our "Puppy Prep" prior to 8 weeks, we work with a program of early neurological stimulation known as "Bio Sensor" or "Super Dog." Detailed blog post coming soon!
10. Is it necessary to have a crate cover for the dog's crate?
We encourage the use of a crate cover because it helps to keep your puppy calm. Something like turning the lights out when you go to bed, the cover creates a "cave experience" and helps the pup to sleep.
Any cover will work. A sheet. A blanket. Something simple. In daytime, an airy, partially covered crate creates the best of both worlds. A quiet place to rest and feel comfortable while also making your pup feel part of the family.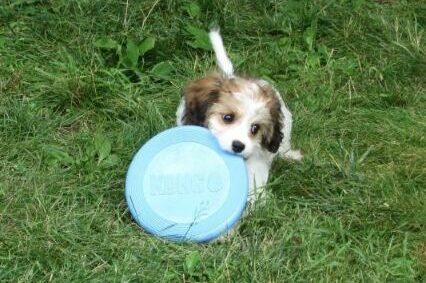 11. Why Do I Have to Wait 7 Weeks?
While special arrangements can be made on a case-by-case basis, seven weeks is when the puppies are strong enough to be visited. Their immune systems are more fully developed. They've been socialized and therefore will crave the attention we want to give them.