Breeding for Cavachon and CavaPooChon Puppies
We have raised monarch butterflies on our farm in Western Mass and now our focus is on specialty breed pups. With King Charles Cavalier sires and bichon mothers, raising royalty remains in our blood. We lovingly and responsibly raise Cavachon puppies from pedigreed parents. Recently, we began breeding our triple-cross bred CavaPooChons. Bred for their gentle temperament, sound health, intelligence, and playful personalities, our Cavachon and CavaPooChon puppies are the perfect starter pet or comfort companion. Raised lovingly in our home and showered with affection, our puppies possess the characteristics so many people are looking for in a pet today. As breeders, we know it's important for you to adopt an exceptional and outstanding puppy from the rest…in beauty, health, and pedigree. Prospective owners are assured of a lifelong relationship with us here at The Monarchy and for the life of your Cavachon or CavaPooChon. We invite you to join our community and discover opportunities to learn and share. Our main goal is to ensure a hassle-free and responsible adoption process. Please peruse our informative website and contact us at your convenience.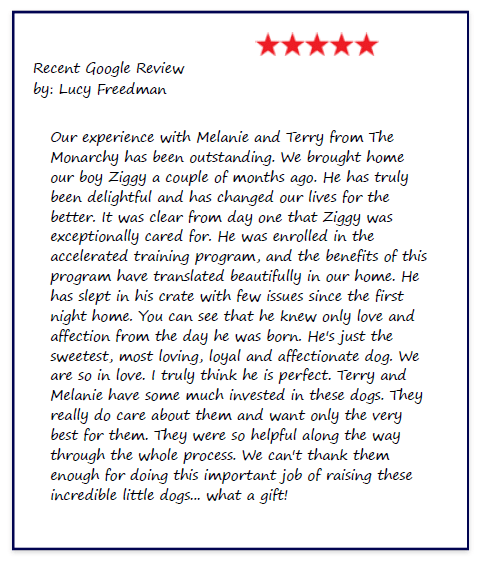 Cavachon and CavaPooChon Puppies for Sale
Our puppies and parent dogs have been raised with affection and love. When a family chooses one of our puppies for sale, we are dedicated and committed to their success. We want to ensure your happy and healthy puppy becomes a great dog for you and your family.
If you're looking for Cavachon or CavaPooChon puppies for sale in Boston, MA, CT, and NY, you've come to the right place. If you're in the New England area and are interested in our guardian program or want more information on our dogs, we are a reputable breeder and are happy to answer any questions.
As Cavachon and CavaPooChon breeders in New England, the puppies we have for sale have found their forever homes throughout the region and across the United States. Special thanks to Linda and Steve Rogers of Timshell Farm in Payson, AZ. They have been our mentors for years and especially present for us during our 'novice years.' They developed the original specialty triple cross-breed puppies known as CavaPooChons. Thank you Linda and Steve at Timshell Farm.
Want to adopt an adult bichon?
Learn about our Guardian Home Program. If you are looking for an adult bichon to adopt, this program might be for you.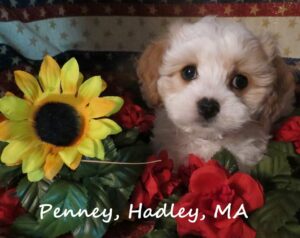 Hallmarks of a Cavachon and/or CavaPooChon include:
soft, fluffy, hypoallergenic coat, along with
an irresistible, sweet, friendly, lovable and intelligent nature
a healthy vigor, avoiding congenital and structural defects common to purebred animals.
Our parent dogs are cleared for genetic faults such as eye conformation testing, patellar luxation, and congenital cardiac defects as applicable to each breed.
We know it is your desire to bring the most exceptional Cavachon puppy into your life. Explore our website and learn about our outstanding Cavachon puppies and the pedigreed backgrounds of their parents.
Then, look no further, you have come to the right place!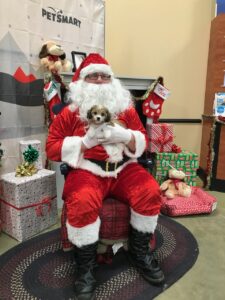 Whenever our beautiful Cavachon puppies are adopted, there is a lifelong relationship between the new family and The Monarchy. Our main goal is to ensure a hassle-free and responsible adoption process. Our cavachons are healthy & smart… you are truly going to experience the love of your life!
---
The Monarchy's Guardian Home Program
Special Notice: We have a guardian program! Please click below to learn about our Guardian Program or give us a call.