winter dogs
What would your dog say if it could talk in the winter months? Probably, please buy me a coat. No, not that one! Or, okay, I'll go outside, if I must. But only for a minute!
Though we're well into the new year, the snows in New England and parts of the Eastern seaboard are still stacked high. If you're West or South, it may be warming up, but there's still a chance of a cold snap. After all, winter weather, or weather in general for that matter, doesn't always follow the same pattern. Blizzard in May, anyone? And if you're well to the North? Our only advice is to stay inside.
No matter where you call home, it's important to ensure your pet is properly cared for in the winter months. These months can wreak havoc on your dog's skin, too. So, stay tuned for itchy skin home remedies for your fur-legged friend.
Fur is the First Layer of Protection of Cold Weather
Though your pet's fur can seem like the perfect insulator, it isn't. Especially in really cold temperatures. We're talking, in the negatives! You know, when the pumps freeze and you can ice skate on water.
Plus, if their fur gets wet, well…it's like going into the cold weather without blow drying your hair. If your pet has short hair, then they're even less protected. Anything in the cold – toes, pads, nose, and ears should be dried off as soon as the two of you come back in doors. Have plenty of food and water at the ready.
While fur is your pet's first layer of defense in cold weather, a coat isn't a bad idea for an extra layer. But don't just dress them up and send them out. Stay with them. By monitoring your pet, you can be right there to "rescue" them, once they've done their business or if they seem too cold. Wondering how you'll know? Some pets lift their paw to let you know the temperature is too extreme for their soft pads.
Speaking of their pads, snow can freeze quickly and could lead to frostbite. But on the other side of the coin, if you've put salt on your driveway or sidewalks, the salt can burn their pads. This is one of the reasons it's a good idea to watch your pet and monitor their outdoor behaviors in winter weather.
So, from toe to tail, consider this for outdoor winter weather gear:
Sweater or coat
Booties for their pads – yes, they make dog booties, but you can use baby booties, too. How's that for recycle!
Don't forget the leash!
5 Tips to Protect Your Pet in Winter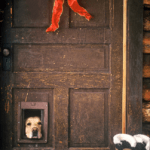 Limit their time outside – If you keep your pet inside most of the day and overnight, and take them out for short walks or for no more than 10-15 minutes, this can ensure they stay warm, dry, and healthy.
Keep Plenty of Dog Food and Fresh Water Available – Dogs need calories to keep warm and fresh water to keep them hydrated.
Maximize Potty Break Time – shovel a small area free of snow to make a place for your dog or puppy to do its business. And don't forget to stay near by so you can keep an eye on your pet. You'll want to watch for signs of hypothermia and frostbite, as well as not keep them out too long in those cold or freezing temperatures.
Keep antifreeze stored in secure place – Antifreeze can be fatal to pets and should be kept on a high shelf. Both cats and dogs find the smell and taste irresistible. So, something as simple as walking through it on your garage floor and licking their paws can be a way for them to ingest it. What does it do? It affects their kidneys and their brain function. If you see a spill, clean it up immediately.
Get reflective for winter walks – Days are longer and nights are darker. Roads are slippery and lights are scarce. To ensure everyone's safety, it's a good idea to invest in reflective gear – collars, leashes, and don't forget a flashlight for you!
Staying Indoors and Your Pet Has Itchy Skin?
Just like humans get drier, itchier skin in winter, so does your pet. Hydration is key, but if your pet has an itch it just won't stop scratching, here are a few home remedies worth a try.
Groom your dog regularly. Use shampoos made for your pup as human shampoos can agitate its skin further. When it comes in from the cold, ensure your pet is towel-dried well, kept warm, fed, and has fresh drinking water. A good brushing can help ease their itch, too.
Oatmeal paste can be used to soften the skin while at the same time clearing dirt and irritants from the skin. Mix with equal parts water and oatmeal to make a paste. Leave it on 10-minutes (if you're dog will let you!), then rinse it out.
A spritz of Apple Cider Vinegar is a natural astringent which can clear up any bacteria. Its cool mist can also help to alleviate itchy skin.
Just a tablespoon of olive oil in your pet's food or applied directly to their skin can provide immediate relief.
Natural oils such as fish oil, tea tree oil, and vitamin E oil help to hydrate. Tea tree oil is more of an antiseptic which can eliminate infection while alleviating the itch.
One Final Thought….
Whether you have a small dog or a large dog, it's important to keep them safe in the winter months. Especially here in New England where the temperatures can drop to a staggering degree. In other words, if it's too cold for you to go out, it's probably too cold for your pet to go out, too. And if you've got a new puppy, it's even more important to take care during the winter months.
---
Winter Dogs
winter dogs
winter dogs